Lean Mean Thirteen (Stephanie Plum Novels #13) (CD-Audio)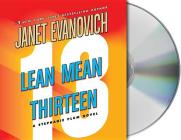 Other Books in Series
This is book number 13 in the Stephanie Plum Novels series.
Description
---
New secrets, old flames, and hidden agendas are about to send bounty hunter Stephanie Plum on her most outrageous adventure yet!

MISTAKE #1
Dickie Orr
Stephanie was married to him for about fifteen minutes before she caught him cheating on her with her archnemesis, Joyce Barnhardt. Another fifteen minutes after that, Stephanie filed for divorce, hoping never to see either one of them again.

MISTAKE #2
Doing favors for super bounty hunter Carlos Manoso (aka Ranger)
Ranger needs Stephanie to meet with Dickie and find out if he's doing something shady. Turns out, he is. Turns out, Dickie's also back to doing Joyce Barnhardt. And it turns out Ranger's favors always come with a price. . . .

MISTAKE #3
Going completely nutso while doing the favor for Ranger, and trying to apply bodily injury to Dickie in front of the entire office
Now Dickie has disappeared, and Stephanie is the natural suspect in his disappearance. Is Dickie dead? Can he be found? And can Stephanie Plum stay one step ahead in this new, dangerous game? Joe Morelli, the hottest cop in Trenton, New Jersey, is also keeping Stephanie on her toes---and he may know more than he's saying about many things in Stephanie's life. It's a cat-and-mouse game for Stephanie Plum wherein the ultimate prize might be her life.

With Janet Evanovich's flair for hilarious situations, breathtaking action, and unforgettable characters, Lean Mean Thirteen shows why no one can beat Evanovich for blockbuster entertainment.
About the Author
---
Janet Evanovich
is the author of the Stephanie Plum books, including
One for the Money
and
Sizzling Sixteen
, and the Diesel & Tucker series, including
Wicked Appetite
. Janet studied painting at Douglass College, but that art form never quite fit, and she soon moved on to writing stories. She didn't have instant success: she collected a big box of rejection letters. As she puts it, "When the box was full I burned the whole damn thing, crammed myself into pantyhose and went to work for a temp agency." But after a few months of secretarial work, she managed to sell her first novel for $2,000. She immediately quit her job and started working full-time as a writer. After a dozen romance novels, she switched to mystery, and created Stephanie Plum. The rest is history. Janet's favorite exercise is shopping, and her drug of choice is Cheeze Doodles.
LORELEI KING has recorded over 200 audiobooks, including several titles from Janet Evanovich's bestselling Stephanie Plum series and Darynda Jones's Charley Davidson series.  Her many awards include the 2008 Audie Award for Female Solo Narration for Tallgrass by Sandra Dallas, the Radio Times performer of the Year for The Blind Assassin by Margaret Atwood, and AudioFile Earphones Awards for Eleven on Top and Twelve Sharp, both by Janet Evanovich.  AudioFile also deemed her one of the "Best Voices of 2008."

 

King's screen credits include Notting Hill, House of Mirth, and Cold Feet, among others. She has appeared as regular and recurring characters in popular British television shows such as Chef, Cold Feet, Alistair McGowan's Big Impression, Emmerdale, and the saucy Mile High. King now makes her home in London, where she lives with her husband, actor Vincent Marzello.
Praise For…
---
"Who can resist?...highly enjoyable." —Chicago Tribune on Twelve Sharp

"Easily Evanovich's best Plum novel in years" —The Times of Trenton on Twelve Sharp

"Expect a good time." —New York Daily News on Twelve Sharp

"Laugh and reach for a margarita...just about the perfect summer beach book." —Cleveland Plain Dealer on Twelve Sharp

"Actress Lorelei King gives each character a distinct--and hilarious--voice." —People on Eleven on Top

"Lorelei King once again displays her impeccable versatility as she portrays a dozen characters, not only sexy, savvy 30-year-old Plum, but also Plum's two oves--mysterious Ranger and tough Vice cop Joe Morelli." —AudioFile on Twelve Sharp, Winner of the Earphones award for truly exceptional presentations

"For fans of Evanovich mysteries on audiobook, Lorelei King is more than a reader -- she is Stepahnie Plum." —Publishers Weekly