Four to Score (Stephanie Plum Novels #4) (CD-Audio)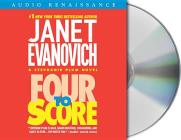 Other Books in Series
This is book number 4 in the Stephanie Plum Novels series.
Description
---
A Featured Alternate Selection of the Literary Guild and Doubleday Book Club and a Main Selection of the Mystery Guild

Janet Evanovich, bestselling author of One for the Money, Two for the Dough, and Three to Get Deadly, scores big with Four to Score, her most thrilling Stephanie Plum adventure yet. Working for her bail bondsman cousin Vinnie, Stephanie is hot on the trail of revenge-seeking waitress Maxine Nowicki, whose crimes include bail jumping, theft, and extortion. Someone is terrifying Maxine's friends, and those who have seen her are turning up dead. Also on the hunt for Maxine is Joyce Barnhardt, Stephanie's archenemy and rival bounty hunter. Stephanie's attitude never wavers-- even when aided by crazy Grandma Mazur, ex-hooker and wannabe bounty hunter Lula, and transvestite rock musician Sally Sweet-- and even when Stephanie makes an enemy whose deadly tactics escalate from threatening messages to firebombs. All of this pales in comparison, though, with an even greater danger Stephanie faces, when, homeless and broke, she and her hamster Rex move in with a vice cop Joe Morelli. RATED PG35 for licentious wit and libidinous cohabitation.
About the Author
---
Janet Evanovich is the author of the Stephanie Plum books, including One for the Money and Sizzling Sixteen, and the Diesel & Tucker series, including Wicked Appetite. Janet studied painting at Douglass College, but that art form never quite fit, and she soon moved on to writing stories. She didn't have instant success: she collected a big box of rejection letters. As she puts it, "When the box was full I burned the whole damn thing, crammed myself into pantyhose and went to work for a temp agency." But after a few months of secretarial work, she managed to sell her first novel for $2,000. She immediately quit her job and started working full-time as a writer. After a dozen romance novels, she switched to mystery, and created Stephanie Plum. The rest is history. Janet's favorite exercise is shopping, and her drug of choice is Cheeze Doodles.

C. J. Critt is an actress, director, poet, playwright, and performance artist.  She has appeared on Broadway, local radio programs, and in national television commercials. On stage, CJ has performed on and off Broadway, from Melvin Van Peebles', Waltz of the Stork, to her own one-woman show on Theatre Row, titled, Cursed With Bigness. She's starred in several one-woman shows, including Cursed With Bigness, Manhattan Diary, Smoking Lips, and By Rail.  She won a Cable Ace Award for writing and producing Words ALOUD!She frequently leads the creative workshop, the Write Stuff, and is a staff writer at Radio Disney. She is also the author of the young adult novel, EggStory and the picture book, The Easter Elves.  C.J., who has narrated 150 or so audiobooks, is the winner of AudioFile's 2008 Best Voice in Mystery & Suspense.  She's widely-known for narrating many of Janet Evanovich's bestselling audiobooks.  She has also read for such authors as Patricia Cornwell, Margaret Maron, and Anne Tyler.  Listeners know C.J. by her smooth, polished voice and spirited performances, and critics have praised the strength and vitality she brings to a wide variety of characters.
Praise For…
---
"Debi Mazar's streetwise and brash style bring to mind Stephanie Plum's big hair, short skirts, and smart mouth without even hearing her described. In FOUR TO SCORE Atlantic City casinos and escalating threats to Stephanie's safety combine to give the listener a fast and exciting ride through the life of a woman trying to make a living as a bounty hunter. Mazar has a lot of fun, and so will the listener." —AudioFile