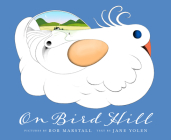 Description
---
An imaginative and original depiction of one of life's everyday miracles. -- KIRKUS STARRED REVIEW
From award-winning and NY Times bestselling children's and beloved birder, Jane Yolen, and award-winning illustrator, Bob Marstall, comes On Bird Hill the first in a series created for bird-lovers and dreamers alike
On Bird Hill is first in a new Jane Yolen series developed for the Cornell Lab, the world's leading authority on bird's. Loosely based on The Green Grass Grew All Around, a nursery rhyme first published as a song in 1912, this whimsical version follows a boy and his dog as they find a bird in a nest on a hill in a strange valley.
This beautiful and enchanting story is perfect for young minds taking flight.
As with all Cornell Lab Publishing Group books, 35% of the net proceeds from the sale of On Bird Hill goes directly to the Cornell Lab to support projects such as children's educational and community programs.
About the Author
---
Jane Yolen has authored more than 370 books including the Caldecott-winning Owl Moon, loved by children and bird watchers of all ages; You Nest Here With Me, a popular new favorite co-authored with her daughter Heidi E. Y. Stemple; and the New York Times bestselling series How Do Dinosaurs...Jane Yolen's books have been translated into over 20 languages. Many of Ms. Yolen's books are about wildlife subjects, especially the winged kind. She lives in Hatfield, Massachusetts. Visit Jane's website at www.janeyolen.com Bob Marstall is the illustrator of nine nonfiction children's books, including The Lady and the Spider, which sold over a quarter-of-a-million copies and was a Reading Rainbow selection. Bob has also been honored with an ALA Notable Book award; an IRA Teachers' choice; a Smithsonian Magazine Notable Book for Children; and three John Burroughs selections. In addition, two of Bob's books are included in the New York Times Parent's Guide's 1001 Best Books of the Twentieth Century. Bob lives in Easthampton, Massachusetts. Visit Bob's website at www.marstallstudio.com.